Device "Rehacor-"" combined with additional wireless devices provides telemetric or autonomous (with data accumulation onto memory card) multiparameter control of various indices during training process.
Indices autonomous monitoring with record onto integrated memory card during training process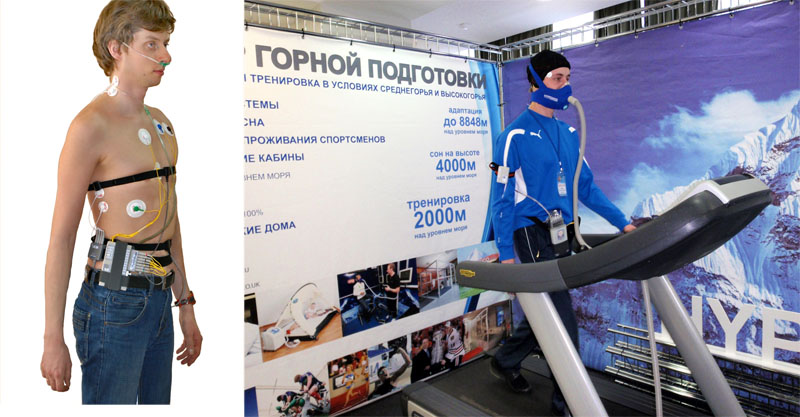 Physiological signals of movement activity and EMG of a sportsman exercising with rowing machine
Trends of HR, EEG alpha-index, envelope EMG, reflecting strain of selected muscles groups, data from movement activity sensors, attached to extremities in cardio-cyclic presentation
Monitoring example of
2 EEG derivations
1 ECG channel
1 PPG channel
Example of ECG monitoring and control of various indeices (HR, statistical and spectral indices) during carrying out of any action.
Example of presentation of results of autonomous monitoring of physiological signals during bicycling with 3 stages of load increase
Comparison of physiological signals (ECG, respiration, muscle tension, movement activity, central rheogram by Sramek) at rest (on the left) and with load (on the right). You can see significant acceleration of heart rate, breathing rate and amplitude, movement activity.
The sportsmanís movement pattern is traced with GPS-sensor synchronously with physiological signals and indices trends record. Movement pattern is superimposed on the map.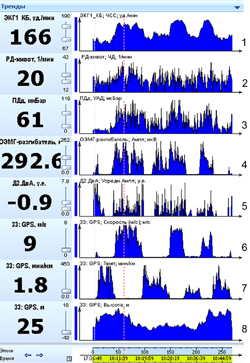 Top to bottom:


By heart rate (HR) load and rest stages are well defined. Pulse reached 180 bpm at load-peak. It decreased up to 100 bpm at rest.
Breathing rate (BrR) significantly inceased at the first load stage, but changed not so much with respiration depth change at next stages.
Respiration depth was evaluated by nominal respiratory amplitude (NRA). You can see frequent (5-8 times) respiration depth increase at load in relation to background.
Dynamics trend of envelope electromyogram amplitude (EEMG) on gastrocnemius muscle also well correlates with load, HR and respiration depth change.
Movement activity trend (MA), recorded with wireless sensor (3-coordinate accelerometer), located on the ankle.
Sportsmanís movement speed,defined with wireless GPS-sensor (it supports both GPS and GLONASS), reflects load and rest periods well. You can see that at the third load stage speed was much lower, than at the first two stages.
Movement pace (the value, inverse to speed with weight coefficient).
Dynamics trendof altitude change during the sportsman's movement across country. it is evident, that speed significantly decreased, particularly because of route uphill climbing at the third stage.
Trends of calculated indices of physiological signals, obtained from results of autonomous monitoring analysis during bicycling with 3 stages of load increase
The sportsmanís movement pattern is traced with GPS-sensor synchronously with physiological signals and indices trends record. Movement pattern is superimposed on the map
The sportsmanís movement pattern is traced with GPS-sensor synchronously with physiological signals and indices trends record. Movement pattern is superimposed on the map
The sportsmanís movement pattern is traced with GPS-sensor synchronously with physiological signals and indices trends record. Movement pattern is superimposed on the map