International exhibition "Arab Health 2013"
The international exhibition
"Arab Health 2013"
took place from January, 28th to 31st, in Dubai, UAE. This year the Medicom MTD Ltd. team headed by its top manager S.M. Zakharov traditionally presented its latest technical developments and approved medical equipment at the
"Arab Health 2013"
exhibition. We were glad to see everyone who had visited our stand! We hope that fruitful and intensive cooperation would help all our users in mastering our devices and our partners and distributors.
NEW DELHI, India
61st Annual Conference of Neurological Society of India
, the 1st Indo German friendship meeting (DGNC) and the 33rd Annual Conference of the Society of Indian Neuroscience Nurses (SINNCON 2012) took place in New Delhi, India, from December 19th – 22nd, 2012.
Products of the Medicom company was exhibited at the satellite medical exhibition and attracted attention of the numerous congress participants. The Indians, with meditation and altered state of consciousness as the integral part of their ancient culture, showed great interest in
system for training with biofeedback "Rehacor"
, which now has become wireless. Distributors draw their attention to reliable and functional systems for
neuromyography
and
electroencephalography
. Portable
cerebral functions monitors
and polysomnographic systems fell under notice of neurological specialists and their representatives.
During the Congress, our partner, an epileptologist from Kiev, Ukraine, Volodymyr Kharytonov, made a report "Heart Rate Variability Non-linear Analysis as a Method of Epileptic Seizure Detection". This study was carried out with his co-workers from Ukraine and USA Ilya Chaikovsky, Vladislav Bukhman, Yuriy Frolov, Vyacheslav Mishiev. The report presented their scientific results obtained with our device –
Electroencephalograph-recorder "Encephalan-EEGR-19/26"
with videomonitoring.
Our company was amazed at the extended warm welcome of the Indian Medical Market. Specific Eastern atmosphere of the conference contributed to profitable work of all exhibitors and establishment of reliable contacts with partners and dealers all around the world.
We are thankful for the given opportunity to participate in such a major event and now we are looking forward to meeting you there next year!!!
Wellcome to Dubai to the international exhibition "Arab Health 2012"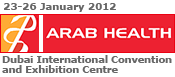 The largest in Middle East international exhibition and congress, dedicated to medicine and pharmaceutics, -
"Arab Health 2012"
- will take place in Dubai from January, 23rd till January, 26th. Medicom MTD invites our colleges, partners and guests to visit our
стенд SAM36
.
We will also present our famous devices, gained acceptance in medical organizations of the RF and abroad, such as – electroencephalograph-analyzer "Encephalan-EEGA-131-03", neuromyoanalyzer "Neuromyan" and rheograph-polyanalyzer "Rhean-Poly" for the complex hemodynamics analysis.

Equipment, manufactured by "Medicom MTD", is included into the list of equipment, recommended for using in different medical organizations according to health care modernization program of the RF.

Our visitors, as always, will have the opportunity to see our equipment in operating mode and communicate with specialists and operators from commercial department to discuss different technical, operational and delivery questions.

We will be glad to see You at our stand!!!
International exhibition "Zdravookhranenie-2011"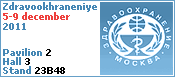 The 21st international exhibition "Zdravookhranenie-2011" took place in Moscow from December, 5th till December, 9th. It was a large-scale exhibition and congress project on medicine in the Russian Federation and Eastern Europe, which represented high technologies and medical equipment at a qualitatively new level. This year more than 800 companies, organizations and manufacturers from 42 countries of the world took part in the international exhibition "Zdravookhranenie-2011".
At the exhibition, our company represented the latest scientific-technical achievements in the area of medical equipment. Any visitor could examine the whole range of our devices (such as polysomnograph "Encephalan-PSG", cerebral function monitor "Encephalan-CFM", electroencephalograph-recorder "Encephalan-EEGR-19/26" (main modification and modification "Mini"), psychological telemetric system "Rehacor-T", neuromyoanalyser "Neuromyan" etc.) with the help of skilled specialists and appreciate the work of our equipment.

The 6th International Scientific Conference on Elite Sports Medicine and its developmental prospects – SportMed'2011 – was one of the significant events taking place as part of the exhibition. Specialists had an opportunity not only to listen to interesting reports on sports medicine development, but also to see new equipment, the latest world achievements in medical technique.

At the conference our company was represented by the general director of Medicom MTD Ltd, corresponding member of Russian Academy of Medical-Technical Sciences – Zakharov S.M., who made a report on the topic: "Portable multifunctional system for psychological and psychophysiological training and accompaniment of training process of sportsmen of the highest qualification". It should be noted that this year the company "Medicom" not only took part in the conference, but became one of its primary sponsors.