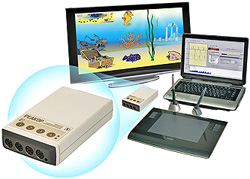 Rehabilitation psychological system for biofeedback training "Rehacor" has three versions ("Biofeedback", "Egoscop", "Biofeedback-Egoscop") for functional biopotential control, with additional options for psychological and psychophysiological diagnostics, and also for diagnostics of state of vegetative nervous system on the basis of heart rate variability analysis.
System basis is the 4-channel universal polygraphic patient multifunction transceiver, which allows recording various physiological indices (up to 4 signals in required combination from the set: GSR, SC, EEG, Ò, RE, ECG, EMG, EEMG, PPG, REG, RHG-CHD), changes of which lead to corresponding changes of audio and graphic images, formed by the software on PC display or by its audio system, during training. Wireless electrostimulator is used to modulate stress affecting.
During biofeedback training the following various recorded physiological indices may be used: galvanic skin response by Ferre (GSR), as an analogue of electroskin resistance, measured at search frequency, galvanic skin response by Tarkhanov (skin potential – SP), electroencephalogram (EEG), temperature (Ò), respiration effort (RE) – thoracic and/or abdominal, electrocardiogram (ECG), electromyogram (EMG), envelope electromyogram (EEMG), photoplethysmogram (PPG), rheoencephalogram (REG), rheogram of central hemodynamics to control parameters of heart pumping ability (RHG-CHD), in required derivations number and their combinations.
Rehabilitation systems "Rehacor" is usually applied to various forms of psychosomatic disorders when chronic stress is one of main pathogenic factors.
Some capabilities of functional biopotential control with biofeedback of the "REHACOR" system:


non-medicated reactivation of physiological systems functions for various pathologies and stresses, tension headaches treatment;


nervous regulation improvement and state correction in neuroses, depressions, psychosomatic diseases, pathologic addictions, drug addiction in post-abstinent period, etc;


correction of manifestations of attention deficit/hyperactivity disorder in children and teenagers;


rehabilitation for dysfunctions of locomotor system, cardiorespiratory, neurovegetative, cardiovascular and other systems;


psychoemotional sphere optimization, adaptive capability increase, training wide range of conditionally healthy people – from schoolchildren and students to pensioners and housewives – in stress resistance and autotraining;


special psychophysiological training and developement of psychoemotional resistance in people, professionally connected with risk, high responsibility and loads – in sportspeople, security agencies employees, transport workers, operators, top managers, etc.



Rehabilitation system "REHACOR" may be commonly used in clinical practice, preventive, occupational and sports medicine, in rehabilitation centers of various types and sanatoriums.