Recorded channels number for biofeedback training may be increased with additional wireless modules:
"Poly-4", pulse oximeter, cardiorespiratory module PG-ECG, wireless movement sensors and others.
In general,
psychophysiological telemetrical system "Rehacor-T"
is the complex, consisting of:
patient transceiver-recorder ABP-4 or ABP-1;
additional wireless modules and sensors;
personal computer;
biofeedback training software.
ABP-4 is a basic transceiver-recorder of device "Rehacor-T" and contains 4 universal polygraphic cnannels, and also integrated movement activity sensor.
Patient transceiver-recorder is meant for record of various physiological signals, such as:
electroencephalogram;
electromyogram;
rheogram;
respiratory curve;
electrocardiogram;
envelope electromyogram;
skin potential;
photoplethysmogram;
galvanic skin response;
oxygen saturation;
skin conductance;
temperature;
stabilogram.
Standard hardware configuration variant– a two-monitor one. The patient's monitor is used to provide visual feedback by means of various videoimages, the doctor's monitor – to control training. If required, such a procedure allows providing special conditions for the patient. It is the two-monitor variant, which can realize all device capabilities. However, there is an option of a simplified device variant delivery – a one-monitor one: the patient's and doctor's visual information is combined on one monitor.
Basic equipment
ABP-4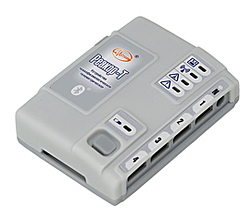 Channels number:
4 universal polygraphic channels and 1 channel for integrated movement sensor;

Wireless interface of connection to PC and additional devices: Bluetooth® and USB;

Power:
1 Ni-MN AA accumulator;
mains adapter;
USB adapter;

Memory card: microSD 2GB;

Dimensions: 90x60x30 mm;

Weight: 100g.
Additional equipment
Wireless piconet use on the basis of Bluetooth® technology provides synchronous data record with patient transceiver-recorders as well as with additional wireless modules and sensors. Additional wireless modules, sensors and devices number and type are defined by main and additional functional capabilities, selected by the customer when delivered.
Respiratory sensors module
It allows connecting up to 4 sensors simultaneously: 2 respiratory (abdominal and thoracic), snore and oronasal respiratory sensors. The module is meant for respiration parameters record during sleep studies or continuous monitoring.
Power: 1 Ni-MN accumulator of 1.2 В AA;
Continuous work time: about 25 h.
Pulse oximeter
It provides connection of various sensors SpO2 and record of data on oxygen saturation of arterial blood.
Power: 1 Ni-MN accumulator of 1.2 В AA;
Continuous work time: about 25 h.
Cardiorespiratory module PG-ECG
It records 3 ECG derivations and rheopneumogram (impedance respiration curve).
Power: 1 Ni-MN accumulator of 1.2 В AA or USB adapter;
Electrostimulator
It is meant for realization of stress resistance skills training.
Power: 1 alkali element of 1.2 В AAA;
Continuous work time: about 80 h.
Movement activity sensor
It is meant for detection of the patient's limbs movements in any directions and balance training maintaining erect position on the wobble platform.
Power: 1 alkali element of AAA;
Continuous work time: about 25 h.
Module "POLY-4"
It records up to 4 ancillary signals in required combinations - EEG, ECG, EMG, EEMG, PPG, galvanic skin response, skin conductance, movement activity, temperature, etc.
Power: 1 Ni-MN accumulator of 1.2 В AA;
Continuous work time: about 12 h.
Wacom pen tablet or pen display, by the customer's selection, are additionally connected to system's computer via USB port to carry out psychological and psychophysiological testing, if additional SW "Objective psychological analysis and testing "Egoscop" is available.
Psychological testing objectivization is based on combined analysis of physiological indices trends and behavioral activity parameters at tests carrying out with pen tablet point (with point cap on usual piece of paper – habitual technology for every test person).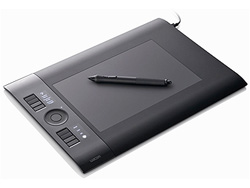 Wacom Intuos4 L pen tablet
in set with Wacom Intuos4 Inking Pen Point
(The second monitor is required)..

During work, the test person reads tasks on the monitor and selects answer variant, ticking off the corresponding areas of a monitor.

Study carrying out technology has two main work variants.

The first (main) work variant uses program feature to show position of pen-point end, when it is located at the distance of up to 12mm from monitor surface .
When the point is brought to the tablet within required distance, you will see a small black marker, which allows easily selecting answer variant or combining the point end with any picture or text and continuing work with them.

For the second work variant ruled sheet with answer variants to concrete test tasks or with sidelines for drawing or text writing is attached to the tablet.
Forms for all tests are included in delivery set.
Form variant is used, if work with main testing variant is complicated or impossible.
In some other cases it is required to use a special pen with ink-writing stem (option) for work with forms of little children .


---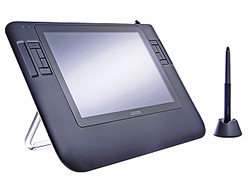 Wacom Cintiq 12 WX pen display

This pen display is the most convenient for "field" conditions due to the small size (405х270х17 mm, screen 12,1 inches) and the light weight (2 kg).

It is easily mounted at different canting angles on the table or placed on the test person knees.
In order not to distract person's attention from testing process, use the monitor area in the form of a "button", specially selected for this purpose.


---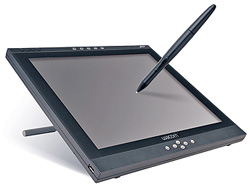 Wacom PL-720 pen display

Pen display has 17' monitor (weight 4.3 kg), that allows using it both in the field and stationary conditions.
Wacom PL-720 and Wacom Cintiq 12 WX use information input with the special point, providing high input accuracy (after preliminary single calibration). .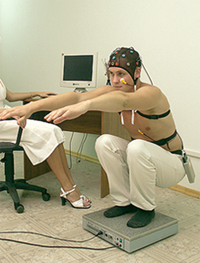 Stabiloplatform
It provides record and analysis of person's pressure center movement pattern to bearing area, that allows using it for diagnostics and psychophysiological state evaluation. Stabiloplatform is used for organization of visual and acoustic modalities biofeedback with the possibilities, provided with complex "REHACOR", which allows effectively using biofeedback methods in locomotor and coordination disorders rehabilitation, in brain circulation disorders in postapoplectic period, and also in stability trainings (erect posture maintaining).