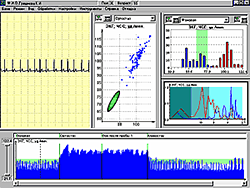 It is used to evaluate state of vegetative nervous system (VNS) on the basis of heart rate variability. It may be used as an additional means to analyze the patient's state dynamics in connection with effect of drugs, physical loads and psychoemotional stresses, and also to control treatment efficiency . It allows manifesting VNS dysfunction in various situations during sleep and wakefulness. You may perform special screening tests, which allow characterizing initial vegetative tonus, vegetative responsiveness and vegetative life support of the patient during continuous monitoring or functional studies carrying out.
Final diagnostic evaluation is carried out on the basis of regulatory systems adequacy index (RSAI).
Evaluation of vegetative nervous system state on the basis of heart rate variability analysis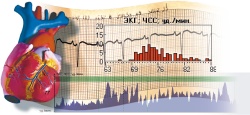 Study of heart rate variability as an indicator of disorders in organism regulatory systems has an important diagnostic significance for a wide range pathology. The studies purpose is to define influence of vegetative nervous system on heart rate and to evaluate organism adaptative reserves.