SW of functional biopotential control with biofeedback – SW "Rehacor" - provides functional capabilities of both Rehabilitation Psychophysiological System "Rehacor"for biofeedback training and Psychophysiological telemetrical system "Rehacor-T". SW "Rehacor" can also be a part of other equipment manufactured by Medicom MTD Ltd - electroencephalograph-recorders: "Encephalan-EEGR-19/26" and "Encephalan-EEGR-19/26" (the main modification and the modification "Mini"), Electroencephalograph-analyzer EEGA-21/26 "Encephalan-131-03", Cerebral function monitor "Encephalan-CFM", Rheograph-Polyanalyzer RGPA-6/12 "Rhean-Poly".
Polyfunctional library of treatment-rehabilitation procedures with biofeedback uses ample multimedia opportunities of modern computers, which allows successfully using most of known types of functional biopotential control with biofeedback.


Customizable and convenient procedures scenario editor the doctor an opportunity for independent modification and adaptation of procedures from the library (or for creation of new ones), considering aesthetical, intellectual, age and other preferences or problems of the patients.


Stress-testing of body functional systems with use of various combinations of audio-visual and somatosensory stimuli and with analysis of various functional systems responses of the patient allows optimizing psychophysiological rehabilitation process.


Multiparameter monitoring during biofeedback training allows a specialist to evaluate involving efficiency of regulatory mechanisms of various types during functional biopotential control.


Stepwise control of physiological characteristics change during biofeedback training procedures and mathematical analysis of their change dynamics during the whole procedures course increase evaluation objectivity of efficiency of functional biocontrol methods used.


Additional diagnostic capabilities, such as multiparameter monitoring, electroencephalography, evoked potentials analysis, rheographic studies, hemodynamics system analysis, polysomnographic studies, heart rate analysis and others are provided depending on selected type of medical equipment by Medicom MTD Ltd.
Software main characteristics
Library of biofeedback training procedures
Biofeedback procedures, including wide set of biofeedback training scenarios of various purposes – HR biofeedback training, EMG biofeedback training , EEG biofeedback training (ALPHA, THETA, BETA/THETA training), GSR biofeedback training, respiratory biofeedback training, temperature biofeedback training, biofeedback training of blood circulation parameters, polyfunctional biofeedback training, various types of biofeedback training with acoustic sensory chair, and in addition to that stress-testing.
---
Scenario editor
Powerful and convenient scenario editor of procedures with wide range of set parameters for biofeedback training carrying out and with procedures library is an effective creative tool for realization of various trainings, considering age, aesthetical, intellectual and other features of the patient.
---
Audiovisual images
Audiovisual images include music and audio fragments, audio messages, videoclips and slides, and also various types of scales, graphs, diagrams and instructions with the calculated formulas, defined dependence of audiovisual images from changes of recorded physiological signals selected from standard computer SW.
---
Software "Cardfile"
Software "Cardfile" (database) of the patients, panel of physiological signals displaying for the doctor, programs of studies results analysis, output documents editor.
Presentation forms of biofeedback signals to the patient
Visual:
Simple: graphs, scales, figures (1), images, video;
Game: 2D (2) и 3D (3);
Dynamical: 3D and noise-like image transformations (4) and images video morphing (5);
Official: screen savers at the beginning and at the end of procedures carrying out, instructions (6).
Acoustic: Audio signals of feedback are presented with the acoustic system or headphones, connected to computer.

Work area screen of the instructor
Signal window (7) Allows viewing graphs of recorded physiological signals in real time.
Trends window (8) Contracted representation of calculated indexes in real time demonstrably reflects trends in the patient's state during the whole study.
Procedures editor (9) Powerful and convenient scenario editor of procedures with wide range of set parameters of biofeedback training and with procedures library is an effective creative instrument for realization of various training strategies, considering age, aesthetical, intellectual and other features of the patient.

Biofeedback training stages
Subsystem of procedure scenario synthesis allows previously planning and specifying all required conditions and parameters of coming training in the form of sequence of selfregulation stages, divided by rest intervals. Efficiency of instruction performed by the test person is analyzed automatically, if required conditions are fulfilled, encouraging vocal, musical or text messages may be formed or untimely completion of current stage and transition to the next stage may be performed.
The procedure, consisting of several stages, every of which is meant for a definite purpose, may be created with means of scenario editor of biofeedback training procedures:
Evaluation stage of initial physiological indices (background) is required to characterize initial background state of the patient and to calculate some indices (mean-square deviation, etc.), which will be automatically used for set thresholds calculation and for evaluation of training efficiency.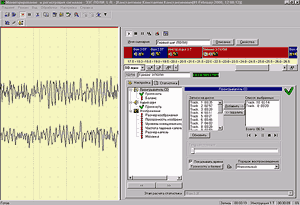 Monitoring and EEG signals record during training by EEG parameters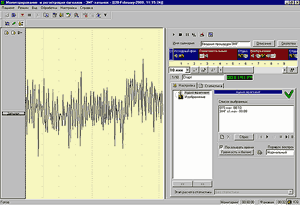 Monitoring and record of EMG signals during training by EMG parameters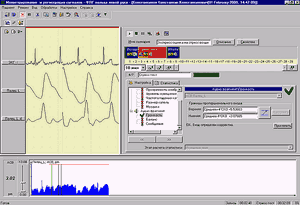 Monitoring and ECG and PPG signals record during training by blood circulation parameters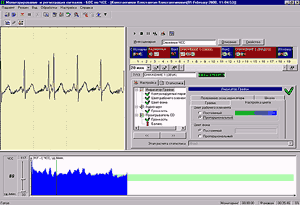 Monitoring and ECG signal record during training by heart rate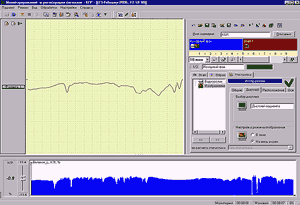 Monitoring and record of skin resistance change during training by galvanic skin response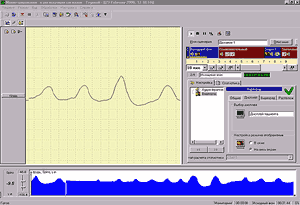 Monitoring and respiratory curve record during respiratory biofeedback training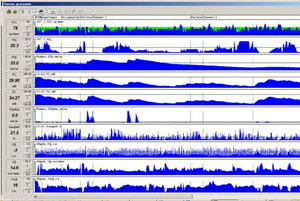 Multiparameter monitoring
Instruction stage is carried out both by a doctor and with technical means – text and graphic information or playing audio files with recorded instructions .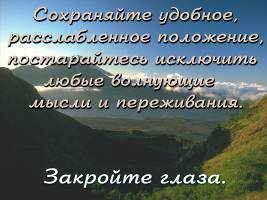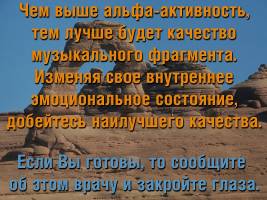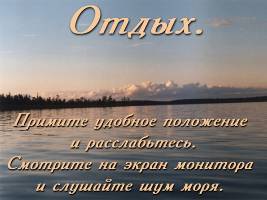 Examples of text messages, output on the patient screen at the instruction stage
Training stage is the main stage, at which the patient is engaged in his state training and correction with FBC method, using the physiological indices, selected by a doctor, for biofeedback.
Library of standard forms of information presentation contains various graphs, scales, visual images, diagrams for displaying change of regulated physiological indices to a patient; topically-selected image rows (slide show, videoclips) with changeable characteristics of their visualization (size, transparency, various distortion types, zooming); musical and audio fragments with changeable characteristics of their playing (volume, noisiness, spatial location of audio source with independent control); specialized presentation forms and stimuli, oriented to specific procedures.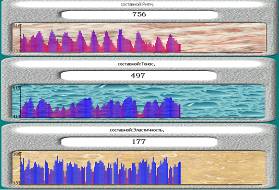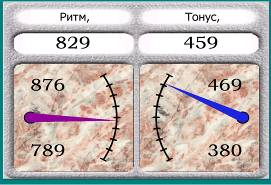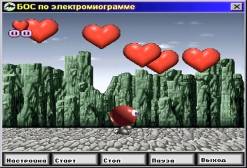 Branch on condition to the next stage
Pause stage is used for rest between different training stages and accompanied with audiovisual programs display.